Testimonials
The Crow Family
After years of struggling to get pregnant it was a blessing to find out we were having twins. I knew I wanted to capture every moment so I hired Jennifer to take my maternity shots. Her passion shined through on her work and I fell in love with how she captured my personality in the shoot. I decided to hire Jennifer when the babies were born and fell even more in love with her work as she captured our babies personalities immediately. Jennifer has done 4 photo shoots with the kids and each time I go home wondering if she got any good photos. When she sends the proofs I am stunned by how well they turned out. I am blessed to have found such an amazing photographer who can capture all the wonderful memories of our two bundles of joy. Thank you so much for your amazing work and allowing your passion to become a career!
The Albert Family
I first noticed Jennifer's work on Facebook and immediately fell in love with the personalities she's able to capture in her images. She has a wonderful eye for composition and I was drawn to the photos I would see posted. When I finally booked a fall session, I could not have been happier with the outcome. The session was quick (which we needed with two antsy kids), but Jennifer was clicking away furiously and I knew she was getting some darling shots. She was able to get several pictures that really encapsulated our children's playful personalities and sweet natures (in addition to several whole family pictures!), and I will be forever grateful for that. I also loved that she gives customers the digital prints, which most photographers will not. It gives you so much freedom to print and share professional photos without having to take out a loan to cover the costs. Jennifer is amazing, and we can't wait to have her help us with our photography needs again!
The Zeller Family
Jennifer has an uncanny ability to portray the joy and charm of children and families. As a mom to young children herself, she relates to the people she is photographing -- which means they are relaxed and comfortable. Jennifer is then able to capture a natural expression that truly reflects the beauty and personality of the individual. Her service options make professional photography affordable. Doesn't everyone deserve to make memories? For all of those reasons and many more, I wholeheartedly recommend Jennifer and FireWife Photography!
The Austin Family
Jen has such a gentle and caring way with children and families which gives her the ability to capture beautiful and natural images. It was a pleasure working with her and it's obvious that client satisfaction is her top priority. We have been so pleased with the past two sessions we have booked with her. We will continue to use Firewife Photography to capture our little one as he grows and our family over the years!
The Russell Family
Jen was FABULOUS! We have two children, and she knew exactly how to get good photos. Our 3 year old DID NOT want to take any pictures, but she somehow managed to get MANY great family pictures and pictures of him. I am so impressed with her professionalism and her ability to make our entire family feel at ease. We will most definitely be taking pictures with her again!
The Foote Family
We loved working with FireWife Photography for family pictures. Jennifer was wonderful to work with. She is both professional and personal. From the first session, we felt like we were working with a friend who was as captivated with our children as we were. Her passion and talent for photographing families is apparent in all facets of her work. Jennifer was extremely accommodating with our needs. As first time parents of twins, we were a bit overwhelmed and Jennifer always made our photo sessions fun and memorable. She had wonderful suggestions for locations and scenes. We took advantage of FireWife's first-year package to have pictures done every 3 months. This was a wonderful way to make sure we captured each phase through out our girls' first year. We happily recommend FireWife Photography to all our friends looking for high quality, quintessential pictures of their families.
The Burnette Family
We have used FireWife Photography for almost two years for all pictures of our twin boys and now our baby girl. We are always extremely pleased with the photos. Jen has a way of making everyone feel at ease during our sessions even when the little ones aren't so happy. She is open to try any ideas we may have for a photo and has an eye to capture moments you didn't even know existed. Whether a session be outdoors on location somewhere or in her studio, the results are always the same...amazing photos! She is such a sweet, genuine person, and incredibly patient. Jen is very professional and timely in scheduling sessions as well as in posting sneak peeks and getting our final pictures to us. FireWife Photography is by far the best of the best! Thanks Jen for helping us preserve these precious memories of our children that we will surely cherish forever!
The McGuinness Family
Firewife Photography offers more than a few basic photos in a staged setting, but rather an entire series of moments that tell the story of your family in a natural element. By capturing my children and their perfect little personalities, along with the offering quick turn-around and high quality shots, Jennifer Parker has given me precious memories that I will cherish for the rest of my life.
The Lopez Family
Jen has been taking photos of our almost three year old twins for two years now. We love her work! She is just a wonderful person and is so easy going when it comes to taking photos. There were some shoots where I never thought we would get any good shots but she always proves me wrong and the photos always come out above and beyond my expectations. She knows what it is like to be a mom and can deal with all the craziness of trying to get toddlers to cooperate. She is fabulous and I would recommend her to anyone!
The Sexton Family
I was referred to Jennifer through CMOMs. I was very excited to have my twins' one year photos taken and I could not have been more pleased with the results! I adore every one of the pictures she took (and there were a lot of them). Jennifer was extremely professional, warm, and easy to work with. We had a great session and I could not wait to show off the beautiful pictures she took of our family :)
The Ellis Family
Jennifer took our twin boys' newborn pictures as well as their 1 year pictures. She was very easy to work with and the pictures were fantastic! I am not very creative when it comes to ideas and have left it up to her both times and they have turned out wonderful! I thought we may have only gotten one good shot for their 1 year pictures since the boys were not cooperating but when we saw what she captured we were pleasantly surprised. Not only were the shots great but she also did a great job of capturing each of their personalities. We are looking forward to her capturing their next milestone!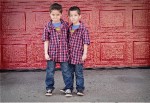 The Wilson Family
I cannot say enough great things about FireWife Photography! Jennifer is so easy to work with and does such a wonderful job taking pictures. Somehow, she was able to capture my boys' personalities within the pictures she took - even though they weren't in the best of moods. She knew just how to make them comfortable and get their attention long enough to get some great shots. FireWife is also by far the most reasonably priced photography in town! I will go back to her again and again!
The Thomason Family
We used Jennifer for the first time for our daughter's fall pictures and could not be more pleased. We have tried several different photographers since our daughter's birth, but Jennifer was the only one who was so patient and relaxed with her that she was able to capture our daughter's personality. I can't look at them enough - they melt my heart!
The Miller Family
Jen does a wonderful job with our family photos. She has such a good eye for lighting and can always catch that perfect moment. We will definitely have her photograph our family again!
The Doherty Family
Jennifer's professionalism and creative eye for our family photos were superior. My Facebook page exploded with compliments! She got amazing photos out of a little boy who refuses to smile. We have done many photo shoots before and I can guarantee we will return not only for the holidays, but for any special occasion. You will be very satisfied!
The Warren Family
Words cannot even express how much we LOVE the new pics!! You truly have a very special gift and it's deeper than just taking amazing pictures!! Years from now we'll look back and remember the emotions you captured with these and for that we are SO grateful!!

The Vayo Family
My family has been a happy client of Firewife Photography for years and several of our friends are now happy clients based on our recommendation. Jennifer has seen my kids in their good moments and their not-so-good moments, but she is so patient with them and always manages to capture beautiful images that I am proud to display on our walls and to send to family and friends. She really has a special talent for photographing the true personality of each child and the unique bond of each family. And because Firewife Photography is so reasonably priced, I have been able to preserve the memories of each stage of my children's lives without spending their college tuition.

The Johnson Family
I have used Firewife photography twice, and both times I was SO thankful I did! Our first session was when we were expecting our second baby, and Jen captured some of the sweetest shots of my husband and I with our 18 month old...and the belly! Our second session was with our newborn baby girl and her big sis...and I am in love with every single picture she took. She is so good and patient with my older daughter and somehow manages to get awesome pictures! With my life being completely chaotic these days and only quick snapshots of the girls captured by me, I am so grateful that I have, and will continue to have, Firewife help capture some really good shots of the precious moments!

The Ingham Family
We are so lucky to have found Jennifer of Firewife Photography. Each session we have had with her has been light and enjoyable. We have found her to be extremely professional and so patient with our children. She has helped us to memorialize such a special time in our lives with her amazing talent. Each time we have received the photos, I've been rendered speechless from the breadth of emotions and life that she has captured in each photo - truly capturing the personality and spirit of our family. Jennifer's beautiful photography captured our family in moments of tenderness, warmth, and joy. We look forward to many more sessions with Firewife Photography!
The McGeein Family
The pictures are absolutely beautiful! Thank you so much for capturing these special photos. They are all so lovely. just when I thought I'd selected a favorite....the next picture would melt my heart. You have a gift that enables you to capture just the right moment and snap the picture. You have a very gentle/calming nature around babies and parents too! Thanks for making our first photo session so special.
The Reed Family
We have been absolutely blessed to have found Jennifer Parker of Firewife Photography! Jennifer does such high quality work and puts forth so much care in the photos she takes. She truly has such a knack for capturing those beautiful family moments that we can forever cherish in our pictures. I am always so excited when we receive our pictures because I know they are going to be beautiful - and then I see them and the word beautiful just does not give her work justice! We adore every sweet sweet memory she has captured of our girls over the past several years. Our pictures are truly treasures to us and we always look forward to our sessions!
The Dowling Family
We have enjoyed working with Jennifer for two years and counting. What I love about working with Jen is her passion for capturing natural, special family moments. We took advantage of Firewife's milestone package and have wonderful pictures of my son from birth throughout his first year. We just welcomed our baby girl and Jen captured great newborn pictures of my daughter and even managed to get good shots of the kids together! Jen has a unique ability to truly capture children's personalities and family interactions. I believe she's able to accomplish this not only by her skill as a photographer but also because of her warm and comforting personality which helps make every session fun! I get so many compliments on the pictures Jen has taken for our family and we look forward working with her to capture family memories for years to come!
The Gainer Family
Jennifer is one of those truly talented photographers who makes a photo session easy and fun. My children love her and our beautiful family photos hang in our family room for us to see every day!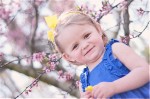 The Ingle Family
I met Jennifer thru Facebook when I won a contest she was having. At that time I was currently looking for a photographer to capture all lifes precious moments of my daughter. We have been a loyal customer to her because she does a fantastic job and works SO well with children and their families. I dont know how she captures the sillest faces so fast but every session there are several GREAT shots of true personallity! I will continue to use FireWife to capture my daughters milestones and I definitely recommend her for any occasion you need photographed!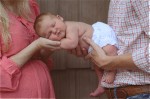 The Beam Family
I LOVE the photos I received from FireWife. They came out beautifully and several friends told me they look like they belong in a magazine! They are displayed with pride all over our home. Jennifer was very flexible with scheduling our newborn shoot, even when my daughter arrived 2 weeks early!
The Ross Family
Picture time can be stressful when you are trying to get that perfect photo, Jennifer makes it easy, fun, creative and entertaining. I'm looking forward to my next session with FireWife Photography!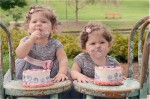 The Hegger Family
I was very impressed with Jennifer and the service she provided. We have such wonderful pictures of our girls 1st birthday photo shoot. They are memories that we will always cherish. I cannot say enough good things about Jennifer and her knack to capture the moment. We will definitely be using her again, and again.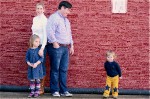 The Terpening Family
We are always so delighted with the way Jennifer can capture our family on film. She is so creative and very patient, and we were so lucky to have found her. We look forward to many more years with Jennifer.
The Rosentel Family
My experience with FireWife Photography was wonderful! We had a good time with our two girls posing them. The pictures came out better than I could hope for. Jennifer is super sweet and fun to work with. She was able to capture our 6 month old's attention for precious pictures. She is very professional and open to your needs and wants. I would highly recommend her to you!
The Venzian Family
Jen was amazing to work with from beginning to end! She took the time out to make sure we got the shots that we wanted and the shots that she knows we would want. The entire experience working with her was great! I cant wait for the next shoot!
The Dede Family
Jennifer photographed our family and our boys are two. Even though they were both throwing tantrums and we didn't think there would be any way to see smiles on their faces, the pictures are the most precious pictures I have of our family. She caught tiny moments when they were most natural and smiling, and I am so thankful for her patience and talent!!!!
The Colvard Family
Jennifer was a pleasure to work with! Very early in the session, she took the time to befriend my shy 2-year-old so the session went very smoothly. We love our family photos!
The Martinie Family
FireWife Photography was very flexible with scheduling. I wanted six month photos for by baby, but she couldn't sit up completely on her own once the session date arrived - Jennifer was willing to reschedule until she was able to sit up for the photos. The process was very easy and picture session was very relaxed and fun!!
The Elslager Family
We have done 4 sessions with Jennifer Parker and all the pictures are amazing. With rambunctious twin boys it is always hard to get good shots of them but Jennifer does this with ease! They hang all through our house and I am so grateful to her for capturing these memories for our family.
The Lawrence Family
FireWife Photography has become a huge part of my life because her pictures are ALL over my house! She has captured my son and my new family through our last 2 years together. Even when my grumpy son did not want to participate in one of his photo shoots, she managed to capture a TON of gorgeous photos that to this day are some of my favorite! Jen is a naturally talented photographer for capturing life's greatest moments!
The Moore Family
Jennifer did a wonderful job capturing our family moments. She was very accommodating to our busy schedule and did an amazing job photographing our beautiful girls. We will definitely use FireWife Photography for future family photo sessions!
The Spencer Family
We had a great time, Jen was so relaxed and ready to handle my 2 crazy girls and non verbal autistic son. She managed to capture everyone's uniquie personality and some really amazing shots.
The Newcomb Family
Absolutely loved our photos with FireWife Photography! She truly captured the personalities of our whole family!
The Naylor Family
Jennifer captured the personality and sweet smiles of our 19 mth old son that we will be able to cherish for a lifetime. She was quick to make these photos in less than an hour, which was great for our little man. Our pictures were ready to download in less than a week. Jennifer was easy to work with and quick to respond when scheduling and any questions with our photo session. We are excited to get her scheduled for our son's 2 year photos.
The Berke family
We love FireWife Photography! Jennifer make the process from setting your appointment up to receiving your photos so easy! She makes you feel at ease during your photo session and the end results are amazing. We will continue to use FireWife Photography to capture our families little moments in life!
The Medlin Family
Jennifer does an amazing job capturing the personalities of our kids. She is able to highlight the features that we love about them and make them really stand out in her photos. We will definitely use her again!
The Novak Family
We had a truly wonderful experience! Jennifer provides great direction that leads to stunning images. We will be back again and again and again!!
The MacCaughelty family
We could not have been happier with our session. Jennifer worked quickly so that out 6 month olds didn't get frustrated. She got the best pictures of the kids - we can't wait for our next session! I've already recommend Firewife and will continue to recommend to everyone I know!
The Tyner Family
Jen is the baby whisperer! Our normally fussy baby was relaxed and sleepy throughout the process and we got some excellent photos out of the session.
The Lloyd Family
Jennifer is professional and very patient with our children. She always has the right props and great ideas for a picture, but at the same time she is respectful of what our concepts for the pictures are. She has a great eye to find the picture you will love forever.
The Stewart Family
Jen was wonderful to work with. Made us feel comfortable, when we usually feed awkward during family photo sessions. We received our images quickly and couldn't have been happier!
The Boguszewski Family
Jennifer was great to work with! We were referred to her, and from the time I emailed her questioning about her services to the time we walked away after our maternity session, we had nothing but outstanding service. We look forward to getting many more moments captured by FireWife Photography! :)
The Tyrance Family
Jennifer made our family shoot fun and relaxed. We have 8week old twins who weren't always cooperative when it was time to pose or smile, but she managed to capture some truly beautiful images. It was a great experience with gorgeous results and we will definitely be calling upon Jennifer to capture future milestone moments in our girl's lives!
The Marin Family
Jennifer is fantastic! Extremely talented, easy to work with. Great with kids. Incredibly fast getting pictures edited and returned to us. We recieve tons of compliments on her photos.
The Edwards Family
We are IN LOVE with the photos from FireWife Photography!! Jen has a special gift to capture the moment. Her photos are natural and gorgeous and her superior service, competitive prices and option for digital images make her someone I will use again and certainly refer to others. If you're considering FireWife Photography, consider no more- book your appt!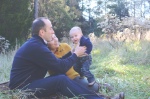 The Amrein Family
I am extremely satisfied with our mini session. Given a somewhat fussy/tired 5 mth old & having to reschedule because of weather the experience was wonderful. Jennifer captured some beautiful images that I will treasure for a lifetime. I will absolutely use Jennifer again for my photography needs :)
The Johnson Family
Our pictures turned out great. We love them and have gotten a lot of compliments from friends and family. Working with Jen was great-the session was so relaxed, which was surprising as it was a newborn session with twins. We received our images back very quickly which was much appreciated (and she even sent a sneak peak of one of the photos that night). Her pricing is fantastic too. So many other places charged hundreds and hundreds of dollars for just the digital files that their total prices were outrageous and totally out of our budget. We're so glad we found Jen. We'll be using her for all our photos for years to come.
The Dehaenen Family
Jennifer really captured both girls' personalities for me. I wanted shots that were candid and un-posed and Jennifer delivered exactly that. The whole experience was a lot of fun and I can't wait for future photo ops with FireWife !
The Barrows Family
Jennifer was so patient with my 8 month old and and 3 year old girls! She worked so hard to capture their true smiles and personalities and it was worth all the effort because our pictures are beautiful!
The Pollack Family
Gorgeous pics of my baby. Jennifer knew how to arrange things and optimize conditions. I was very happy with the images captured and quality. We got our images very quickly too!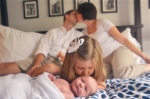 The Warner Family
We've used Firewife Photography several times to capture important family photos and we've been very impressed by the quality and professionalism every single time. I highly recommend Jennifer and Firewife photography for your next photo session. You won't be disappointed.